Noise Reduction Earplugs For Parents
Kids are loud.
And not just when they're crying. They're also loud when they're laughing, playing, talking, eating… And not to mention the cartoons blaring from the TV.
As much as you love them, it can be a lot to deal with sometimes. 
But there is a solution. One that means your kids can carry on being kids, while you get a little calm in your life. We're talking about earplugs for parents.
How earplugs help parents face the noise
Parent sensory overload is more common than you might think. From sibling arguments to joyful shrieking at the park, and from your baby crying to the overwhelming noise of soft play, it can be a lot. 
With all that noise happening all around you all the time, it's easy to feel overstimulated. The constant barrage of sounds can lead to feelings of irritability and frustration when even the smallest of things can feel like giant, insurmountable challenges.
The constant noise can also make you feel stressed and anxious – which can make it a challenge to stay calm and composed. You might find yourself snapping at your kids. Or maybe you just feel exhausted. Or are finding it hard to concentrate on anything.
You pour a lot of energy into looking after your kids, but it's important that you fill up your cup, too. That's where noise reducing earplugs for parents can help.
They take the edge off the hustle and bustle of parent life, helping overstimulated parents to regain their calm. You'll still be able to interact and communicate with your little ones, but you'll feel less stressed and overwhelmed.
Our Earplugs for Parenting
Sale price

$44.95 USD

Regular price

Unit price

per

Conversation・Noise Sensitivity・Social Gatherings・Parenting
Benefits of using earplugs as a parent
Using parent earplugs will reduce the noise levels, helping to restore your sense of wellbeing.
But it's important that you can still hear everything that's going on with your kids. Traditional foam earplugs block out noise – not ideal when you're with kids. 
But Loop Engage earplugs are made with a patented acoustic channel and newly engineered filter to reduce noise levels by up to 16 decibels (SNR)/10 dB (NRR), while ensuring that sound quality remains crystal clear. That means they're 100% safe to wear while you're looking after kids. You'll still be able to hear what's happening – just at a lower volume.
Plus, they're designed to help you stay engaged by minimizing the occlusion effect – that is, the echoey, head-underwater feeling you get with most earplugs. Loop Engage earplugs deliver noise reduction while making conversations feel more natural. So you can still laugh, play and talk with your kids. They'll just give you a little helping hand to regulate your emotions and stay patient, no matter what's going on around you.
When parents are less stressed, they can better communicate with their kids. By reducing the noise, parenting earplugs can help you to stay calm and prevent frustration – making for more composed parents and happier kids. Win win.
Have you ever experienced the need for assistance in staying focused and concentrated? If so, explore our focus-enhancing earplugs designed to eliminate distractions when you're aiming to concentrate Or do you have a big event to attend? Then take a look at our earplugs specifically for events!
Little savior!

It's amazing how soft and comfortable they are to wear. At the same time you hear everything but so calm and clear.

- Martina M . 

These have changed my life!! 

These have changed the game for me in terms of anxiety and overstimulation. They're a quick, easy and comfortable solution for the two. I would highly recommend these to anyone.

- Megan M.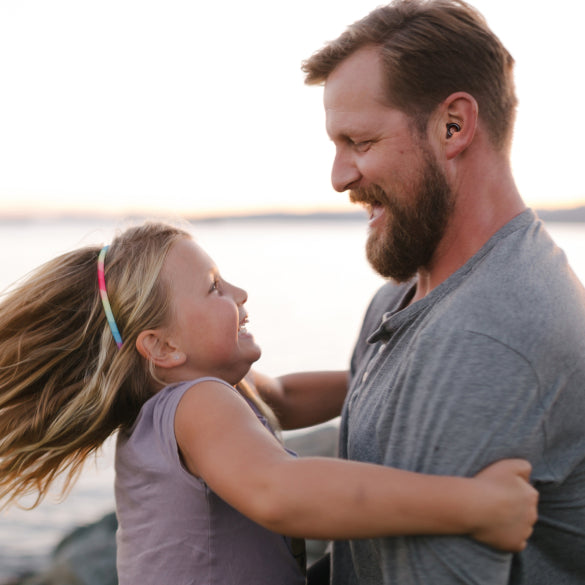 Parent at your volume
Give your sanity a chance and restore some calm to the chaos. With Loop Engage earplugs you'll be able to take the edge off the daily noise of parenting life, without missing a beat. Think of the benefits: Calmer you. Happier kids. Everyone's a winner. 
100 days free return
Ready to give them a try? We reckon you'll love them, but if not, you've got 100 days to return them for free. Just send them back our way. No hard feelings.
Frequently asked questions
What are the benefits of using earplugs as a parent?

Earplugs can help to reduce noise-related stress and make you feel calmer and more relaxed, especially if you're sensitive to noise. Parenting is demanding but when you support your own emotional wellbeing, you'll help to prevent burnout and improve your communication with your kids.
How do earplugs help promote better sleep and relaxation for parents?

Earplugs like Loop Quiet are specifically designed to create a quieter sleep environment, with up to 26.2 decibels (SNR) of noise reduction. Getting a better night's sleep means you'll wake up feeling more refreshed and ready to tackle whatever parenting throws at you!
What are the common noise sources that parents face?

Noisy toys. Crying. Tantrums. Arguments. Laughter. Playing. Electronic devices. There are endless sources of noise when it comes to kids and babies – and often, for parents, minimizing these noises is the key to wellbeing.
What should parents consider when choosing earplugs for themselves?

As a parent, it's important to strike a balance between noise reduction and still being able to hear what's happening with your kids. Earplugs like Loop Engage filter noise without completely blocking it out, so you can limit the volume without missing a beat.
Can earplugs be used while caring for a baby?

Yes, Loop Engage earplugs are designed to filter noise rather than block it out completely. They offer up to 16 decibels (SNR) of noise reduction, so you can still hear everything perfectly – just at a lower volume.
Are earplugs safe for parents to use?

Traditional foam earplugs block out sound, which may not be safe for parents who want to stay alert and aware. But Loop Engage earplugs are 100% safe to wear around your child, as they filter noise rather than block it.
What safety precautions should parents take when using earplugs around their babies?

When choosing parent earplugs, it's important to ensure that they don't impact your ability to hear your baby crying. That's why it's best to choose a pair that filters sound rather than completely blocking noise.
Why is self-care important for parents and how can earplugs contribute to it?

Self care isn't selfish. As a parent, it's essential to look after yourself to avoid burnout and maintain your wellbeing. Earplugs can help you to stay calm by reducing noise which can cause you to feel overwhelmed. You'll feel more relaxed and happier – and so will your kids.