Noise reduction earplugs for travel
You want to get your day off to a good start. But the high-pitched screech of the subway train is setting you on edge. Or how about the person sitting behind you playing music – without wearing any headphones? Bet they're getting on your nerves. Or maybe you feel overwhelmed by the general hustle and bustle of traveling.

No matter where you're going, or whether you're going there by road, rail, bus or air, traveling can be stressful, anxiety-inducing – and noisy.

But you don't have to suffer through it. There is an easy solution to your traveling woes: earplugs for travel.
Why are earplugs essential for traveling?
Bright lights. Noisy passengers and vehicles. Smells you have no control over. People brushing up against you. Traveling – whether you're on public transport or in a car – can be a sensory nightmare. Especially if you have autism, ADHD, are sensitive to noise or have other sensory sensitivities.

Plus, traveling can be loud. Motorcycle rider? The engine can reach 166 decibels – and the sound of the wind can be as loud as 100 decibels. Flying? During take off and landing, the plane can be as loud as 105 dB, and noise in the cabin sits at around 85 dB when you're in the air.

Some London Underground routes are as loud as a rock concert (110 dB). And the NYC subway is even louder, hitting noise levels as loud as 120 decibels.

To block out all those sounds, you might be tempted to turn up the music on your earbuds, drown out the background noise, and lose yourself in your tunes. But that can hurt your ears even more.

The solution to your commuting woes? Travel earplugs, made to take the stress out of traveling. They'll reduce the volume to a safer level, let you get some peace and quiet, and take the edge off if you feel overwhelmed.
Our earplugs for traveling
Sale price

$34.95 USD

Regular price

Unit price

per

Music & Events・Focus・Noise Sensitivity・Motorcycling
What makes Loop Earplugs ideal for traveling?
The best earplugs for travel are designed with comfort and safety in mind – like Loop.

Want some peace and quiet so you can get to sleep while you're traveling? Try Loop Quiet, which offer up to 27 decibels of noise reduction, to bring those irritating noises to a more tolerable level – so you arrive at your destination feeling relaxed and refreshed.

Want to hear conversations while protecting your hearing and reducing overwhelming noises? Try Loop Engage and Loop Experience, which reduce noise levels by 16 dB and 18 dB respectively. Or, with Engage Plus or Experience Plus, you can reduce the volume by a further 5 decibels for even more protection. That means you can tune out announcements, background music, engine sounds and other people's chattering – while still being able to hear clearly enough to communicate when you want to.

All of our earplugs are designed to be seriously comfortable, so you can wear them for the duration of your journey. They come with a choice of ear tip sizes so you can find your perfect fit, and the tips are made from super soft silicone for all-day comfort. So even when you're squashed like a sardine inside a subway carriage, you don't need to worry about them falling out.

Plus, because they're made from silicone rather than traditional foam, they're reusable. You can wear them again and again for other events, concerts and as a tool to help your concentration. Just pop them in their handy carry case to pull out whenever you need them.

Or are you a busy parent wanting a bit of calm in your life? Then check out our range of earplugs for parenting, to avoid parent sensory overload. Or is it that you struggle to sleep at night? Then be sure to view our range of earplugs for sleep, a cost effective solution to ensure you fall asleep faster.
Banish those banshees
We know how precious the ability to hear is. And we want to make sure you can hear for a long time to come.  
Let's banish those screaming banshees from the subway once and for all – with travel earplugs. But what are the best earplugs for train noise, traffic and travel? 
Earplugs that are safe, stylish and comfortable – like Loop: 
Collapsible content
Safe

Bring noise to a safer volume for your ears.

° Want some peace and quiet on a plane? Loop Quiet offers 27dB noise reduction.

° Want to be able to hear conversations – but while still protected? Loop Engage and Loop Experience reduce noise levels to 16dB and 18dB respectively. You can reduce the volume even more with Mute add-ons.
Stylish

Loop earplugs come as a stylish ring design in a range of colors and fit discreetly in your ears (and come with an earplug travel case).
Comfortable

With memory foam and silicone ear tips, Loop earplugs fit snugly and comfortably. When you're squished like a canned sardine in the subway, and shoved around during rush hour, you won't have to worry about them falling out.
"I bought these for my daughter who struggles with traffic noise…They are perfect."

- Wendy K. 

"They are effective in reducing traffic noise and fit comfortably."

- Laura B.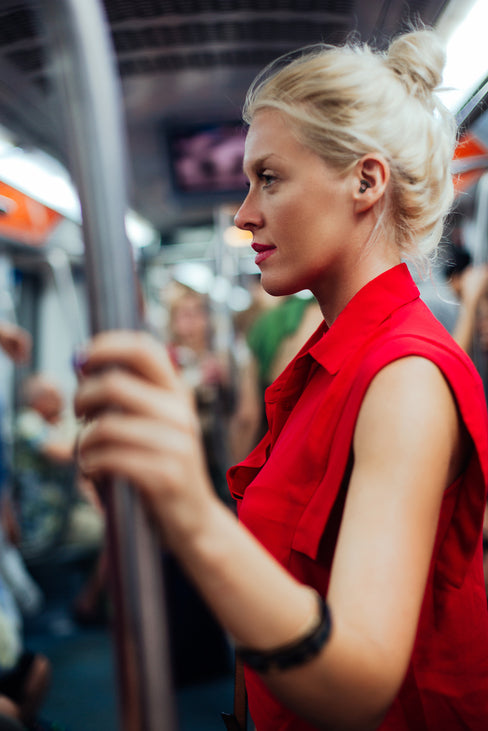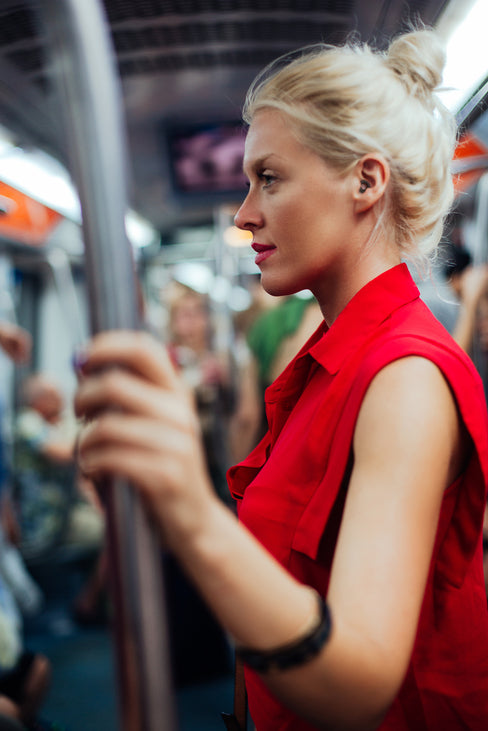 Live life at your volume
Whether you're traveling on the loudest subway route in the city, sitting next to screaming children on a plane, or driving through endless traffic (check your local laws about whether you're allowed to drive with earplugs), you won't be jarred anymore.  
We'll take care of your ears while you do the commuting. Hello beautiful mornings.
Order yours now
100 days free return
Try them during your next commute, and if you're not a fan you can return them within 100 days. Free.  
No hard feelings
Frequently asked questions
Can earplugs help with travel-related issues such as motion sickness or vertigo?

Motion sickness is caused by conflicting sensory signals received by the brain from the eyes and inner ear. Although travel earplugs aren't designed for motion sickness, some people find that they help alleviate their symptoms as they reduce sensory overwhelm by limiting external noise and creating a quieter environment.
What methods of transport are Loop earplugs suitable for use on?

Whatever method of transport you're using, you can wear earplugs for a more comfortable, quieter experience. If you're driving, try using Loop Experience or Engage earplugs so you can still hear everything that's happening around you – just at a lower level.
Can I use the same earplugs for travel that I use at home or at work?

Yes, all of Loop's earplugs are reusable, so you can wear the same earplugs for travel as you do at home or work. Simply pick the ones that suit your needs and offer your desired level of noise reduction.
How do earplugs help in reducing travel-related stress and fatigue?

Earplugs reduce external noise, creating a quieter environment. This can help to reduce sensory overload, meaning your journey is less stressful and more enjoyable. Constant sensory stimulation can quickly lead to fatigue, so wearing earplugs may help you to feel less tired, too.
Can I sleep comfortably with earplugs during long-haul flights or train rides?

If you want to sleep with your earplugs in, try Loop Quiet. They're made from soft silicone and offer up to 27 decibels of noise reduction, so you can fall asleep faster and stay asleep for longer.
Can I wear earplugs continuously while traveling, or should they be worn intermittently?

Our earplugs are designed to be comfortable for all-day and all-night wear, so you can wear them for the full length of your journey without any issues.